It is so great to listen to the rain right now - I know it's only making things chilly and wet, but it's so relaxing and at least different from the weather of the last few weeks. My backyard is sort of grey and mushy but so green and moderately alive for the first time in months.
The beautiful weather was just one more reason to head up to First Friday this weekend.
After a really delicious (but expensive!) dinner at Iris, we headed up toward some of the smaller art galleries first, just to see what new things were happening. I did notice a few new artists and displays, including one artist who made small serving trays out of melted wine and soft drink bottles. It's a really cool idea that makes me sort of wish that I had a reason to need one of those. Also, I came across this installation, which looks to be a collaboration piece for next year.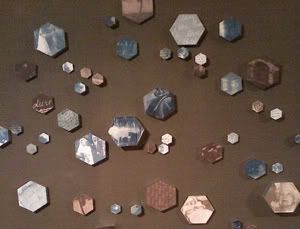 There are also fewer small cats in kimonos, which I'm sort of okay with at this point.
I visited the Palace Theatre to check out the fifth annual St. Pet's Day, put on by The Celtic Club of Ohio (also one of the cooler people I know, Jim Collver). I know it's a little early to be wearing green, but these people are always ready to celebrate and collect dry cat and dog food for local shelters. I got there just in time to see The Mickeys finishing up. Even early in the evening, there was a pretty respectable pile of pet food by the front doors. I'm not Irish at all, but I've been to this event almost every year since it's been going, and it's always been a lot of fun. I mean, where else are you going to meet up with people who care this much about animals and at the same place find kids who can do jigs?
See? I don't kid around about these things. Sorry about the couple lines of links, but I promised I would post some references to the groups that were there for the benefit: Alliance for Animals, Friends of Stark Pound, Indian Summers Border Collie Rescue, Inc., Second Chance for Animals, Inc. and Stark County Humane Society. Bravo also to Emily Busta, who raised a ton of pet food in place of a 13th birthday party this year.
After the show, I checked out the gallery at the Progressive Urban Real Estate office up the street. I really love the idea of mixing a workspace with an open art gallery, and I hope it works out for owner Mike Boylan and the Malone students whose art is on the walls.
Oh, and don't forget to move your clocks forward an hour today even though it sucks to lose even an hour of this relaxed weather.