In the middle of the day, you can just eat your lunch and grab a book, or chat with co-workers or if you happen to be anywhere near downtown Canton on any Wednesday for the next two months, you can actually catch a concert.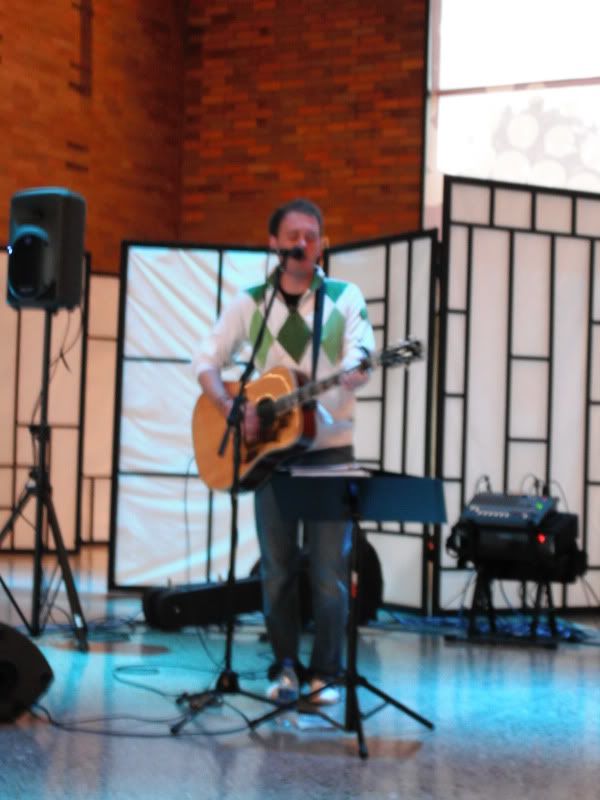 I dropped by the Canton Cultural Center mid-week to see Ryan Humbert kick off this year's J-Jams, sponsored by Arts in Stark. A decent crowd was gathered inside the big courtyard area with the Pegasus looking on during the first of the lunch-hour concerts. There's a whole schedule of local artists taking the stage to help downtown workers get through the middle of the week, and if you don't feel like packing lunch you can also bring a few dollars to eat some catered Chik-fil-A.
The event was a pretty cool gathering of local people who just want to meet with some others for lunch. I grabbed a seat at a table full of Nationwide workers from down the street, and ended up having a good time chatting with Doug Stuck, who is also going to be playing next month (that's as good of a plug as I think I'm going to get for you, Doug).
Humbert is a pretty cool guy, too. He grew up in Green and is living in Jackson right now, but he did a year-long stint in Nashville to finish a new album. His music sort of fits in with Americana pop with some rock and even some dance beats thrown in. Some of the tracks on his new album "Old Souls, New Shoes" have a definite groove to them that I was not expecting to hear. Some fun stuff.
He's going to be showing around northeast Ohio for a while before starting work on new stuff, so you might check the 'shows' tab on his site to see when you can catch him. Personally, the Everly Brothers show in Akron on Saturday sounds like a lot of fun to me.
Also, be sure to check the Arts in Stark site to check out all the local bands that are going to be showing on Wednesday through the next two months!