deadlines
It's running a little close to the wire, but for those who can get projects done quickly, there's still plenty of time. The Rubbertop Review is accepting short stories, poetry and creative nonfiction for publication. Last year, I'm pretty sure this was just University of Akron-driven, but they're pulling in from outside now. I'm intending to get at least one good...
10 tags
first friday january
It really always surprises me just how many people show up to the colder First Fridays. At least, it seems like there are always big crowds when it's freezing. On the other hand, we might all just be hanging out in the same areas to try to stay warm. There was only one place to hang out to stay warm this (pseudo-)First Friday. The theme might've been "Fire and Ice," but...
10 tags
first night 2010
Happy New Year! Even though I've been hearing lots of horror stories about missing money for Akron events, I was looking forward to First Night Akron from Christmas night. It's such a strange amalgamation of arts and other events that it's always a lot of fun. This year, I started out at the Akron Art Museum, where I caught Case Sensitive, a teen band with some really nice...
holiday wishes
Merry Christmas to everyone out there! Not a lot of local art going on in these past few weeks, but it's time to spend time with family anyway! Happy holidays to you and yours!
4 tags
ryan humbert: strung out for the holidays
One of the things that I've wanted to highlight in a little way with this blog is the chance to get involved in the community and be a part of things, and this is definitely the time of year to do that. There are lots of very worthy causes out there right now, but the Akron-Canton Regional Foodbank is both local and important to people in need, right in our own community. I've written...
5 tags
light up downtown
Even though it took me 20 minutes to find a parking space and cold rain was drizzling over everything, Light Up Downtown, put on by the Canton Regional Chamber of Commerce, managed to brighten an otherwise dreary December night for me. I showed up a little bit late for the stage show about Christopher Pop-In-Kins (for which I am, admittedly, a little old), but was marching through the street...
the late late late show →
This is about as far away as physically possible from being local art, but it's probably one of the biggest shows to be seen this year. The Leonid meteor shower peaks tonight, right around 4 a.m. our time. I've been meaning to mention it, but I forgot all about it myself. We'll be getting about 20-30 meteors per hour, while viewers in Asia will be watching more than 200-300...
6 tags
first friday november
I refuse to believe that November is here, especially in that the days are starting to get shorter and colder. Despite a little bit of a chilly night, plenty of people showed up to First Friday November: Harvest Moon. I was out there with a coat and scarf, and I was still a little cold. I sort of wanted to get a warm snack, so I stopped at Sheri's Sweets. I ended up choosing a pumpkin spice...
4 tags
revenge is a dish best served animated
Last year, unsuspecting filmgoers were terrified by a series of haunting and sometimes gruesome shorts in the merciless Freakishly Short Animation Festival. Now, it returns to thrill a brand new crowd with the Revenge of the Freakishly Short Animation Festival! No, seriously. Akron Film got to setting up the Halloween mood at the Akron Art Museum with an animation festival filled with more than...
2 tags
2 tags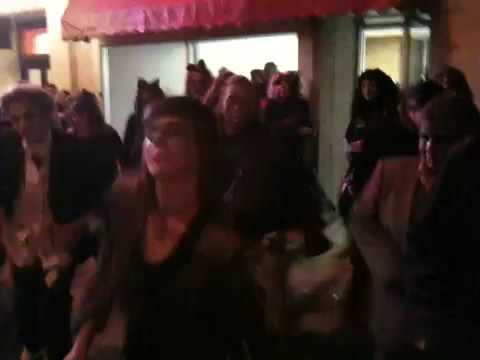 3 tags
downtown dining discounts
First Friday might be the big event around downtown Canton, but at least through October, the Canton Development Partnership is trying to get people to notice the food as much as the art in the district for Downtown Deals Wednesdays. Each Wednesday evening through the end of the month, a coupon printed from the site will earn a half-priced meal for every full-price entree bought at several...
3 tags
4 tags
first friday october
I didn't actually make it out to First Friday this month, but I hear it was a good time. I'd be a little iffy on the family-friendlyness of the "Oktoberfest" chapter of the monthly event, but there was apparently plenty of focus on the food and fun parts of the harvest season. The Kresege lot was the scene for people focused on pumpkins, where there was painting and a...
3 tags
first friday september
Geez, is it September already? And already the end of it, I guess. I have no idea how it got so late in the year so quickly, but I think I'll be okay with it (if for no other reason than all the great comfort food that comes with colder weather). First Friday this month was all about "the color of music." There have been academic battles back and forth in the art world about...
3 tags
jam or bust
I also visited the NEO Rock 'n' Roller Girls during their jam Aug. 29 (is that the right word? I'm still unsure how that works) to catch the bidding wars on the works from the Bustapalooza event. Not only was there a lot of action on the floor, the auction was more ferocious than I expected it to be. In total, they raised $4,385 for Stewart's Caring Place, with a high bid...
6 tags
art-a-palooza
Honest, I'm not trying to make a list of posts suffixed by -apalooza; it's just sort of strangely happening that way these days. The Green Arts Council finally updated their site with a couple photos from the arts gathering Aug. 29. I'd upload a couple of my own, but they didn't turn out that great. The event itself was pretty great, though. I met a couple really nice...
8 tags
stark naked salon
The Massillon Museum hosted another huge party Aug. 22 for the opening of the Stark Naked Salon exhibit. I hear about 1,200 people showed up to support a show of many artists, all of them from Stark County. The show, put together by co-curators Alexandra Nicholis and Dan Kane of the Canton Repository, brought together some artists that I've seen around at First Friday and other venues, but...
2 tags
another photo contest
I had made a note about this a while ago, but I totally forgot to mention it here. Canton/Stark County Convention & Visitors' Bureau is holding another photo contest. This time, shutterbugs are supposed to show off what makes Stark County such a great place to visit. The contest runs until Aug. 31, so there's still a week before to go. I'm too late to mention something...
5 tags
bustapalooza
Does anyone know anything about roller derby girls? Up until a short while ago, I hadn't even run into any before. Now, I'm finding out that there's not only one but two teams right here in the northeast Ohio area. For the record, they're pretty cool (if a little quirky) people, with names like Suicideblonde, Scarlet and Rorshach. But for the sake of a little quirk,...
3 tags
addendum
I would be remiss to forget to mention the Joseph Saxton Gallery of Photography, which I visited again while I was out at First Friday. I stopped by the first night of the grand opening, a few months ago, but their site wasn't up and running at the time. This time, I managed to bump into an old colleague, who is now the assistant manager of the gallery - it also turns out that I went to...
4 tags
first friday august
I, for one, was pretty glad that the Hound Dog Days of Summer wasn't as accurate for the weather at First Friday this month. In fact, it was a pretty mild evening, and the weather made it perfect to get out and enjoy the galleries. The size of the event has only grown over the summer - I saw at least two live bands playing and I'm sure there were a couple more around. There were some...
5 tags
gallery on the greens
The weekend before last, I got to go check out the Gallery on the Greens at Glenmoor Country Club. I've been waiting for this to come around not so much to see Glenmore from the inside (which is pretty nice already) but to see what kind of local artists were able to get in to the juried show. Even with a huge sudden thunderstorm hitting that morning, a pretty decent crowd showed up for...
7 tags
chalk the walk
First Friday July had a lot to live up to for Independence Day weekend. There were enough people crowding the streets when I got there to have our own parade, though most were wandering around and staring down. This month's theme was Chalk the Walk, with more than a dozen works of chalk art up and down 4th Street by local artists. Moreover, there was space designated for kids (and big...
independence day
Happy Independence Day from North Canton to you. I'm laying on my back on a blanket with family, enjoying a mostly-slow light show near Hoover High. Also, some housekeeping: The last week or so has been slow due to fewer arts events and some family time on my end. We should be back to regular updates now. Hope everyone had a great weekend!
4 tags
northside jazz
I've been including information on the calendar for Akron for a while, especially since they sometimes seem to be more active than we are a little farther south. It's not exactly my city, but it's something. There are a few events that have taken place at a place called Northside in Akron, which would be the equivalent of the arts district in Canton, but I didn't know how...
3 tags
canstruction
We live in Ohio. Construction is just about one of our regular seasons. Canstruction, on the other hand, is a lot more rare. And I don't see why, honestly, because it turned out some really cool projects for an even more awesome cause. Over at the Massillon Museum last week, there was an opening gala for their first Canstruction competition. I say first, because it's apparently a...
3 tags
jaycee fair night
All right, I admit it. This one has nothing to do with art. But I can't help posting about one of the annual events that more or less defined my early childhood. I don't even know how long the Jaycee Fair has been going on, but as far back as I remember, it shows up in the lot across from Hoover High School one week in June. It's sometimes a little trashy and a lot broken down,...
ha-ha-happy birthday
Scared Scriptless celebrated three years of funny business with a nearly sold-out show at the Kathleen Howland Theatre. I got there right at the curtain and I almost had to fight for seats. The stage was decked out for a party, and it was pretty clear from the first games that the cast was ready to have fun. I don't know if it was the atmosphere or if they were just really on their game,...
2 tags
sunday in the city →
I saw a flyer for this in passing out in town. Since North Canton is sort of a second hometown to me, I'm really glad to see an art event that sounds like First Friday going on. I hope this gets some support out in the community, even though it's coming up pretty quickly.
7 tags
jump in june
So I was pretty impressed a few weeks ago when I went to Zing in the City and could not physically move from my spot because of the huge crowd. I thought that downtown Canton couldn't draw in any more people than that. I was wrong. June's First Friday was a sea of people almost everywhere I looked. I was running a little late, but it seemed that families were taking advantage of...
5 tags
j-jams: ryan humbert
In the middle of the day, you can just eat your lunch and grab a book, or chat with co-workers or if you happen to be anywhere near downtown Canton on any Wednesday for the next two months, you can actually catch a concert. I dropped by the Canton Cultural Center mid-week to see Ryan Humbert kick off this year's J-Jams, sponsored by Arts in Stark. A decent crowd was gathered inside the...
2 tags
from script to you 2009
For some reason, I imagined that From Script to You 2009 was happening later this month, but I stand corrected. There's one weekend left to catch seven plays written by local amateur playwrights and performed by the talented group at the North Canton Playhouse. I caught one performance of last year's set (in which a couple friends of mine had parts) and it was equal parts dramatic,...
5 tags
zing in the city
As the summer looms and schools are letting out, art events like what we've seen in the last few months are slowing down. Who wants to look at art when people can go outside and.. uh… Oh yeah! Outdoor events! Zing in the City happened last Saturday night out in the Kresge "green space" (I have always called it "that one lot,"), and a huge crowd turned out to...
3 tags
get a taste
Last Thursday was a pretty drastically hot change in the weather around here, but I got to hang out inside the tent at the first Taste of Canton event in the Kresge lot. The Canton Chamber of Commerce gathered a bunch of local restaurants to show off their best flavors in the form of delicious snacks. I've been to a couple places around Canton, since I like to try to find local food before...
4 tags
king of the forest
Musica is one of the more eventful places in Akron. Just by regularly bringing moderately well-known to well-known groups from around the country, it pretty routinely makes up a good deal of the monthly events on the Downtown Akron Partnership calendar. But just because they get some bigger names doesn't mean they won't keep track of the local music scene. Last night I checked out a...
1 tag
lets go
Let's talk about Akron (even though they sort of overshadow those of us just south sometimes). While doing my rounds online, I visited the Downtown Akron Partnership, who is responsible for much of the cool stuff that happens up there such as the Art Walk. This month, it looks like they're encouraging people to GO and get out during work hours to play or have lunch somewhere new...
2 tags
better than snl
I was just going to say that the group behind Scared Scriptless is like our local SNL, but it struck me as I was typing it that they are much cooler. The group, made of several local comedians, puts on improv sketches and shows the first Saturday of every month at the Kathleen Howland Theatre, with some shows elsewhere inbetween. They are not only really funny on stage, but also super cool people...
2 tags
go fly a kite
So I'm coping with the Kimono as Art exhibit closing this week. I would link the site as usual, but it seems that even a few days after, they've already taken it down. Weird. We had a good run, didn't we, kimono? I think I ended up seeing it four times, though that's nothing compared to the final visitor counts. The last I heard, more than 50,000 people showed up through...
2 tags
world tai chi day
Again, this is something I'm more tied to myself than it is arts, but tai chi is cultural, too! This year's World Tai Chi day was last Saturday, and about 50 tai chi players got together during the morning at a park in Medina to play through a few forms and share different styles. A few local schools were represented, including the Progressive School of Martial Arts, for which I have...
4 tags
earth day
Earth Day has come and gone, but the only area recognition that I've found is happening this Saturday at Nimisilla Park. B-Earth Day looks like it's set to be sort of an arts and culture party out in the park with some events about cleaning and planting. There's music and food promised, and best of all the event looks pretty much free. Kent State University Stark Campus has had...
2 tags
we're halfway there
Way more than halfway, actually. The Kimono exhibit is wrapping up soon, and I joined a few friends in seeing it one more time this weekend. One friend had come from South Dayton, New York, just to see the exhibit. I expected it to be a quick visit, but I was really surprised to see a line stretched all the way to the back of the lobby and around the corner. As I was buying tickets, I overheard...
3 tags
h-a
This Friday night, the actors will be mostly silent but the crowd will hopefully be laughing loudly. The ASL Comedy Tour will visit the Kent State University Stark Campus, with Keith Wann and Crom Saunders. I know this isn't outright art/culture, but I've got some personal connection to ASL, and this evening sounds hilarious. It's even voice-interpreted for us hearing people. I...
3 tags
your vote counts
A few days ago, a friend passed this along to me, so I thought I'd share. The Canton Stark County Convention & Visitors' Bureau is determining the winners of the 2009 Best of Stark County Awards. Now, this isn't directly arts-related, but it might make a difference to some of the cultural events coming in the next year. Listing your favorites for each category doesn't...
April shower fashions
There was so much art stuff going on last week that it has bled through into this week for me. One of the events that I missed because of the Akron Film Festival was the NOTO Boutique's spring line fashion show. I didn't even know Akron had enough fashion for a spring line of anything. Of course, I know about Rubber City Clothing (which has a cool little blog that I came across a...
3 tags
oh my
Last week, apparently in celebration of the Kimono exhibit, George Takei visited the Canton Player's Guild Theatre for An Evening with George Takei. I thought he'd be promoting his recurring role on an NBC show that I am not going to mention or upcoming films, but it seemed like he was just wanting to share some time with us. As if he has anything better to do on a Thursday night in...
3 tags
film weekends part two
I'm really not thinking of the Akron Film Festival as a part two to the Cleveland International Film Festival - they just happened close together. I'm glad I was able to make it up to the Akron Art Museum almost every night of the festival, because I saw some movies with great potential. And a few that were kind of not as cool. But mostly the former. The theatre was about twice as...
3 tags
first friday april
It looks like Ohio finally realized that it missed out a couple weeks of cold weather back in March, so it's sort of been making up for it the last few nights. Unfortunately, one of those nights was First Friday. I'm pretty sure I saw even more people out doing things on the February night. Things were pretty low-key outside, but if you headed down to the Canton Civic Center, it was a...
1 tag
more art for the fridge
During a few weeks fairly heavy with film, I thought I'd drop by the North Canton Elementary School Art exhibit at the Little Art Gallery. The exhibit will be up through Apr. 5 (which you would know if you remembered to check out the calendar in the sidebar - all the exhibits I hear about are updated on every Sunday), and I think I might be even more impressed than I was by the middle school...
2 tags
Watch
Now it's time for the people from Cleveland to come down here for our film festival.